Who Is The Father Of Tboss Bbnaija Newly Born Baby Girl? | Tboss Bbnaija Newly Born Baby Girl
Who Is The Father Of Tboss Bbnaija Newly Born Baby Girl? | Tboss Bbnaija Newly Born Baby Girl
Who Is The Father Of Tboss Bbnaija Newly Born Baby Girl?, that is the question everybody are asking and why why did she Denied that she is not pregnant.
– Three days ago, TBoss drop a message for those who have alleged that her baby's father is a Nigerian senator
– This is coming shortly after a social media user shared a video clip, exposing that the former BBNaija housemate is heavy with child after denying it for a long time, TBoss has now admitted she is pregnant and is now laughing over those who believe they know who the father of her baby is a Senator. 
According to rumours going round, former BBNaija housemate TBoss has allegedly delivered a beautiful baby girl in the early hours of Tuesday, 30th July.
TBoss after denying pregnancy rumours on many occasions, was captured with a big belly in a hospital by a social media user and her recent posts on instagram may have just confirmed that she has indeed given birth.
ALSO READ: BBNaija 2019: See Photos Of Ex BBNaija Housemate TBoss And Her Newly Born Baby Girl (Photos)
The entire journey of TBoss' pregnancy has been from one lie or rumour to another. For many weeks, the seemingly heavily pregnant former reality TV star denied being with child and had people guessing what her actual state was.
A social media user who found her at an antenatal clinic, shared a video, showing that she was heavy with child and since then, TBoss' narrative concerning expecting a child has changed. Rather than keep denying, the ivory former BBNaija housemate is now on the matter of the father.
In a post shared on Instagram, she claimed that people have been alleging that the father of her child is a Nigerian senator to which she laughed and mocked them for thinking that they have figured her out.
ALSO READ: Trending Video: Watch And Download Chris Brown Dancing To Naira Marley's Music 'Soapy' (Video)
Read her post below: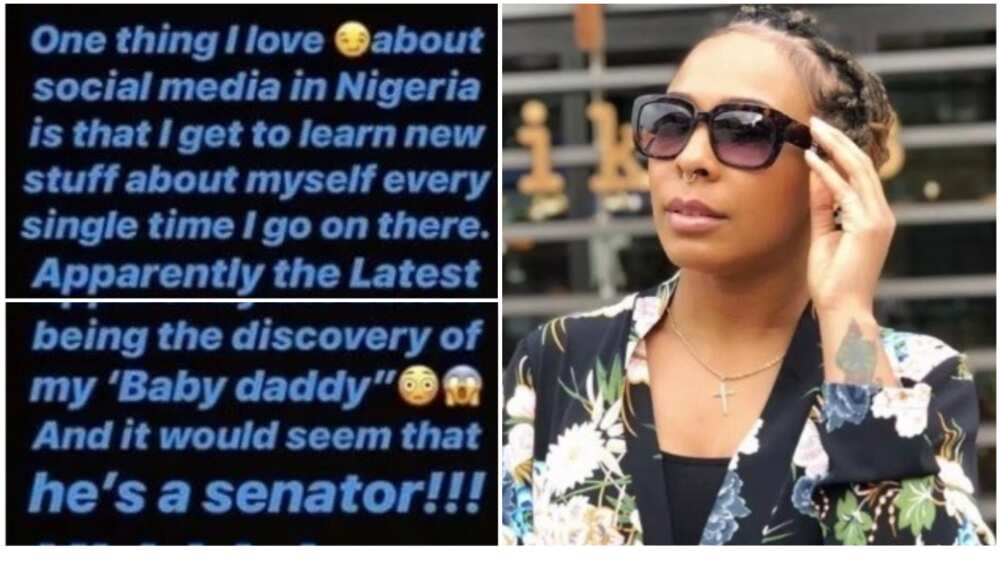 Meanwhile, it appears TBoss is crumbling under the weight of trolls judging based on a post of hers on Instagram. Some will argue that since exiting the Big Brother house, TBoss has stayed relevant and in the eye of the public, all thanks to social media.
ALSO READ: Bbnaija 2019: Nelson Reveal In A Video That He Knew He will Be Evicted And He Stated The Reasons( Video)
Although social media has helped make TBoss, the ivory beauty called for its ban. In her post, she stated that there are too many toxic and mean people on all social media platforms and for that reason, it should be banned in Nigeria.
RELATED POST: